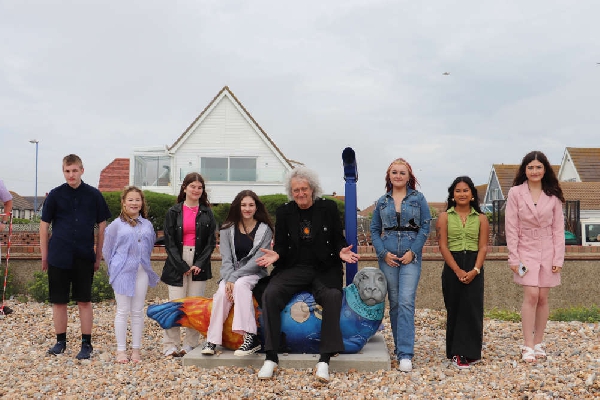 Dr Brian May officially launched a new 'Seal Trail' in Selsey, which features five seal sculptures celebrating the town and it's heritage.
Selsey Town Council, Chichester College and local business Jago Developments came together in a 21st Century artistic triumph, made possible by the public arts grant.

Five fiberglass sculptures, designed and painted by students at the college, have been situated around Selsey.

It makes sense that it involves a star of their sea life, which draws in tourists from far and wide; the seal.

Since Selsey's name derives from the Anglo Saxon version 'Seal Island', it seems perfectly fitting that this showcase puts the marine animal at heart

A day of unveiling around the town culminated in the final seal – which pays tribute to Selsey's 'dark skies' and famed Selsey resident Sir Patrick Moore – being revealed by astrophysicist and rock star Dr Brian May, an old friend of the late astronomer.

Brian said: "On a spot where I used occasionally roam with Sir Patrick, I was able to unveil an intriguing memorial to his legacy.

"I met and congratulated the fantastic young designers of all the seals and a good time was had by all. Viva Sir Patrick!"

Megan Masters, 17, who designed the 'dark skies' seal, added "I think the whole experience, meeting Brian May, it's been amazing.

"I've really enjoyed the whole project. It's been really exciting to be involved with it and I can't quite believe that my seal is now here for everyone to see!"

Representing how Selsey's past heritage has influenced the present day, the seals will not only promote the seaside town but will also add practical value as functional works of art that can help shape Selsey into a place that visitors can learn from and enjoy.

Spanning back to its role as a harbour point in the World Wars, Selsey has been flourishing ever since.

Recognisable residents such as Sir Patrick Moore appreciated it's dark night skies to forward his astronomy; astounding playwright RC Sheriff saw it as his haven; poet Kipling and composer Eric Coates bathed in the atmosphere and undoubtedly used the town as a muse.

Councillor Andrew Brown, Chairman of Selsey Town Council, said: "Selsey Town Council would like to thank Dr Brian May for being part of this event today, lending his support to the young artists, promoting Selsey's dark skies made famous by his close friend and former resident Sir Patrick Moore.

"This exceptional Seal Art Trail, made possible through a public arts grant, has given the opportunity for the Town Council to work with Selsey's residents, community groups, primary schools, local businesses and Chichester College's talented students.
"Ultimately celebrating Selsey through its heritage and wildlife; adding a splash of colour as we look to a brighter future for all. "
The seals will act as attractions, perhaps to be viewed whilst enjoying some of the town's famous seafood or having dived in the beautiful clear waters; especially prominent for the sea-life seal – designed by Emerald Krijgsman and unveiled by representatives from Mulberry Marine Experiences and Potters Fish - which will be one of two that will also act as a bicycle rack.
But, beyond the surface lies a sentimental value which adds to the beauty of the project.

By situating the second 'bike rack' seal – designed by Freya Kate Betteridge and unveiled by Pamela Howard OBE and Ginger Signs & Graphics - outside the Selsey Centre, passers-by will be guided to remember the cultural significance of the town and how it has hosted famous artists.

In amongst the Mulberry bushes at East Beach Pond, the 'In Remembrance' seat seal - designed by Nicholas Binns and Ruby Moffatt and unveiled by representatives from the Victory Club in Selsey – is a nod to Selsey's role in the two world wars.

People who wish to follow the trail can make a day of it; using the seals as signposts to mark their discoveries as they travel through time and see a whole new side to the place they know and love.

The penultimate seal – designed by Carleigh Barker and Rosie Harris and unveiled by the chair of Manhood Wildlife and Heritage Group and Jago Developments Ltd - will also serve as a 'bugs hotel' conserving natural wonders in the biodiverse area.

The bug boxes were created by pupils from the Seal Academy and Medmerry School.

This brings us to the poignant final sculpture, which takes the form of a telescope stand, aiding stargazers that perhaps wish to follow in Sir Patrick Moore's footsteps.

These pieces will not only represent the talent of the local community but will also aid us in celebrating Selsey's individuality in an innovative way.

The seals will undoubtedly become a legacy talked about for many years to come.

Andy Davies, Head of Learning for Creative and Performing Arts at Chichester College, added: "We are extremely proud to have been invited to take part in this fantastic project, and our students have really risen to the challenge presented to them.

"They have embraced the brief set out by Selsey Town Council to come up with five stunning seal designs for all to see and enjoy.

"The project also enabled our students to build up valuable work experience to add to their own portfolios. The trail is destined to become a way to showcase the kind community spirit and artistic flair of Selsey's residents.

"We'd like to say a huge thank you to Dr May for giving up his time to meet the students and see their hard work, and also to Selsey Town Council for giving them the opportunity to get involved with this project, which sees them leave a lasting legacy for Selsey residents to enjoy."

Colin Farren, owner of Jago Developments, added: "At Jago Developments Ltd, we are specialist and renowned glassfibre manufacturers, and we have been involved with the design and manufacture of many extraordinary projects over the years.

"When Zoe Neal of Selsey Town Council approached us, we knew we wanted to involved with the Selsey Seal project. The project has been amazing, a true community project involving so many people; from a Selsey resident in his 90s to primary school children.
"With the easing of lockdown, it was a lovely opportunity to welcome the art & media students from Chichester College into our new factory in Runcton.

"The breadth of design and painting skills from the art students was astonishing, I look forward to seeing the documentary from the film students. It has been a privilege to be involved with Selsey's Seal Project.
"It has been a truly uplifting experience seeing the talented students of Chichester College taking hold of their future careers; overcoming all that has happened in the past 15 months."

The project has also been filmed by media students at the college, who will be making a documentary about the seals – from start to finish.
To find out more about the Seal Trail, visit www.destinationselsey.co.uk