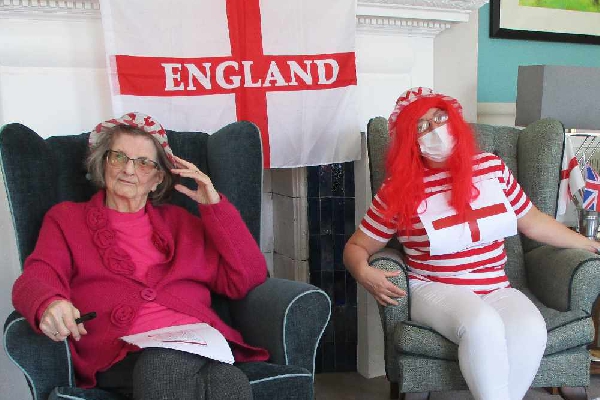 St. George's Day Celebrations at Westergate House
With bunting of flags, and talk of dragons and roses, Westergate House Care Home in Fontwell, celebrated St. George's Day on Friday.
A talk on the history of St. George started the celebrations where we learned that St George was a soldier in the Roman army who slayed a dragon and saved a princess.
The anniversary of St. George's death is celebrated as England's national day and we were only to keen to enjoy festivities in the name of our patron saint.
A spokesperson at Westergate House told V2 Radio: "The day gathered pace with Kay, our Activities Co-ordinator's, delightful agenda of events. Together with the residents, she did a karaoke of traditional English songs.
"Whether singing or waving flags high, everyone joined in with light hearts and smiles.
"The music was infectious and even the most unlikely of performers asked to take a turn. Before long it was time to start the quiz. Ten questions on time-honoured topics were discussed and debated.
"With a glass of something special, our minds were soon in gear to answer Kay's questions! Heather was the acclaimed winner and her success was celebrated with a round of applause.
"Traditional anthem music followed and canapes prepared by the head chef were relished by all."
General Manager, Paul Middleton-Russell, said: "Everyone at Westergate House really enjoyed the festivities. We had everything from fancy dress to singing traditional tunes and everyone was really keen to get involved."