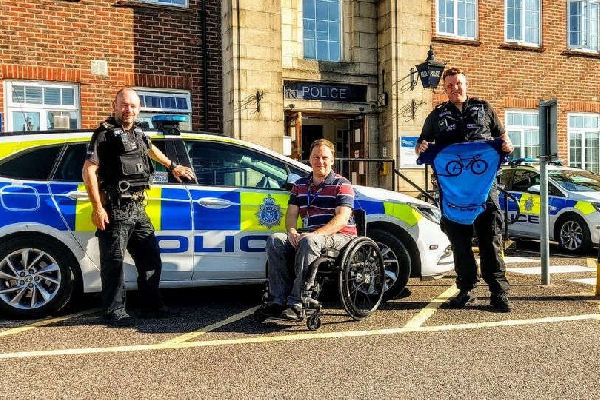 Photo from Chichester Police Facebook page.
Sussex Police officers are taking on a cycling challenge to help raise money to make adaptations for their disabled colleague.
On the 10 September, friends and colleagues of PC Darren Triggs are taking on a challenging bike ride from Lands End to Chichester Police Station to raise money and help with changes to PC Trigg's garden to enable him to access it easily from his house.
Chichester Police said: "On 3 December 2019 PC Darren Triggs, 36, who has been working with Sussex Police since 2007, tragically suffered from a blood clot in his spine causing him to be paralysed from the chest down. Sadly, the surgeon has confirmed that Darren will never walk again.
"Darren has returned to work but is still unable to access his garden at home so cannot enjoy this space with his much loved family.
"Darren and his family will receive all money raised to help and support them and assist in funding the work to adapt the garden so Darren can once again get out and play with his children."
To donate click here.
You can follow the bike ride via this Facebook page - https://orlo.uk/iq1Fg