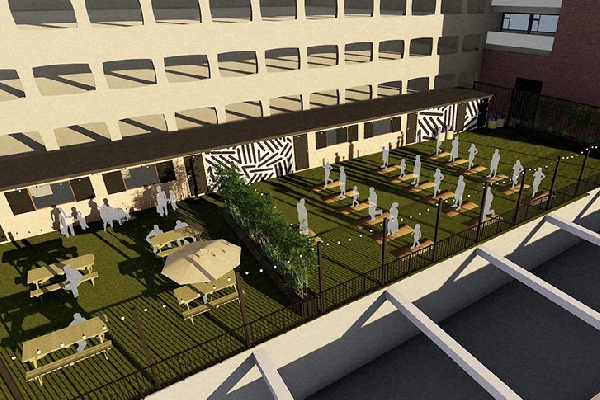 Artist's impression of the pop-up terrace
An exciting pop-up project which will turn under-utilised land overlooking Worthing seafront into a brand new food, drink and wellbeing hub will open in a matter of weeks.
Innovative property company QED will start work this week to transform the open-air terrace at Grafton multi-storey car park into a temporary food and drink outlet for local independent businesses.
Known as Level 1, it will open this Summer and operate all year round.
As well as being a hub for food and beverage businesses, the terrace will also be a flexible and creative space. This will allow it to engage with different audiences with health and wellbeing activities, public art and events like beach cleans, comedy and quiz nights and Christmas markets.
It comes after the plans received permission from Worthing Borough Council's Planning Committee last week.
Harry Smith, Director at QED, said:
"The pop-up site will be known as Level 1 and will be open year-round. We will have a schedule of activities including pilates, yoga, walking clubs and Tai-Chi, as well as there being food and drinks available throughout the day.
"We are hoping it will be a next step for some Worthing and Sussex based businesses to grow and flourish post pandemic. We believe that Level 1 will offer the residents of Worthing the opportunity to work, eat, drink, exercise and have fun whilst enjoying the views of the seafront.
"We hope the pop-up will create 24 full-time equivalent jobs and we will focus on recruiting those aged 16 to 24 years old that have been hardest hit by the pandemic."
Cllr Kevin Jenkins, Worthing Borough Council's Executive Member for Regeneration, said:
"We're excited to welcome QED and Level 1 to Worthing. It's a fantastic idea and will transform a prime spot on the seafront which is currently under-utilised into a vibrant and welcoming feature.
"I know there's lots of interest from residents and businesses alike in making use of the new pop-up terrace.
"It's yet another piece in the jigsaw of our ongoing work to invest in the seafront and regenerate the town as a whole."
The Council continues to work towards the longer term regeneration plans of the wider Grafton site.