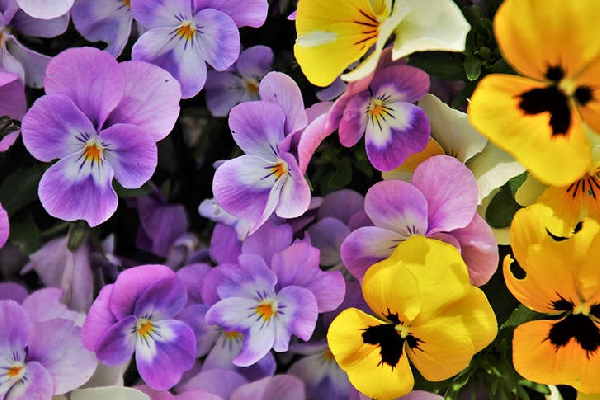 Planters across the town will be filled with over 5,000 mixed pansies and wallflower citrona
The process to transform Worthing's floral bedding from the colourful summer display to winter blooms will soon be carried out by the Council's Parks Team.
The dedicated team introduced around 4,000 bedding plants and shrubs and 250 planters and hanging baskets at the start of the summer to brighten up the main streets, seafront and parades as part of an investment by Worthing Borough Council.
But with autumn officially starting on 22nd September 2021, the focus will switch to winter plants to ensure Worthing remains as colourful through the chillier months.
Cllr Edward Crouch, Worthing's Executive Member for Digital and Environmental Services, said: "The team delivered some fantastic and brilliantly thought-out flower displays across Worthing, making sure there was plenty of colour that was attractive and welcoming to both residents and visitors.
"This was just another part of our continued investment in regenerating our town that is bringing so much positivity to Worthing, while promoting an even more positive identity.
"But although the weather will start to get colder, the work certainly does not stop and the team begins planning for the winter with plants that thrive in the colder months. The displays are innovative and creative and definitely add to the overall look of the town."
One of the first tasks at the end of September will be replacing the carpet bedding at Beach House Park and introducing winter plants which will be a variety of: Ophiopogon planiscapus nigrescens, Ajuga reptans 'Chocolate Chip', Sempervivum 'Standard Green' and Sempervivum tectorum 'Rubin' to form the image of a Poppy.
The winter bedding in containers consist of 51 planters attached to the pedestrian barriers at the entrance to the town centre and Chapel Road area. A total of 37 floor installed square/rectangular planters are set to decorate the outside of the Town Hall, Museum, Field Place, Crematorium and Railway Station, while there will be six precinct planter bases positioned at Warwick Street and Montague Street.
These planters will be planted up with over 5,500 mixed pansies and wallflower citrona mixed.
Up until 2019, the bedding scheme was carried out by an external contractor, but after the pandemic in 2020 such comprehensive bedding plants were generally unavailable from commercial growers and this work is now delivered in-house by the Council's team.