1st Birthday Charity Challenge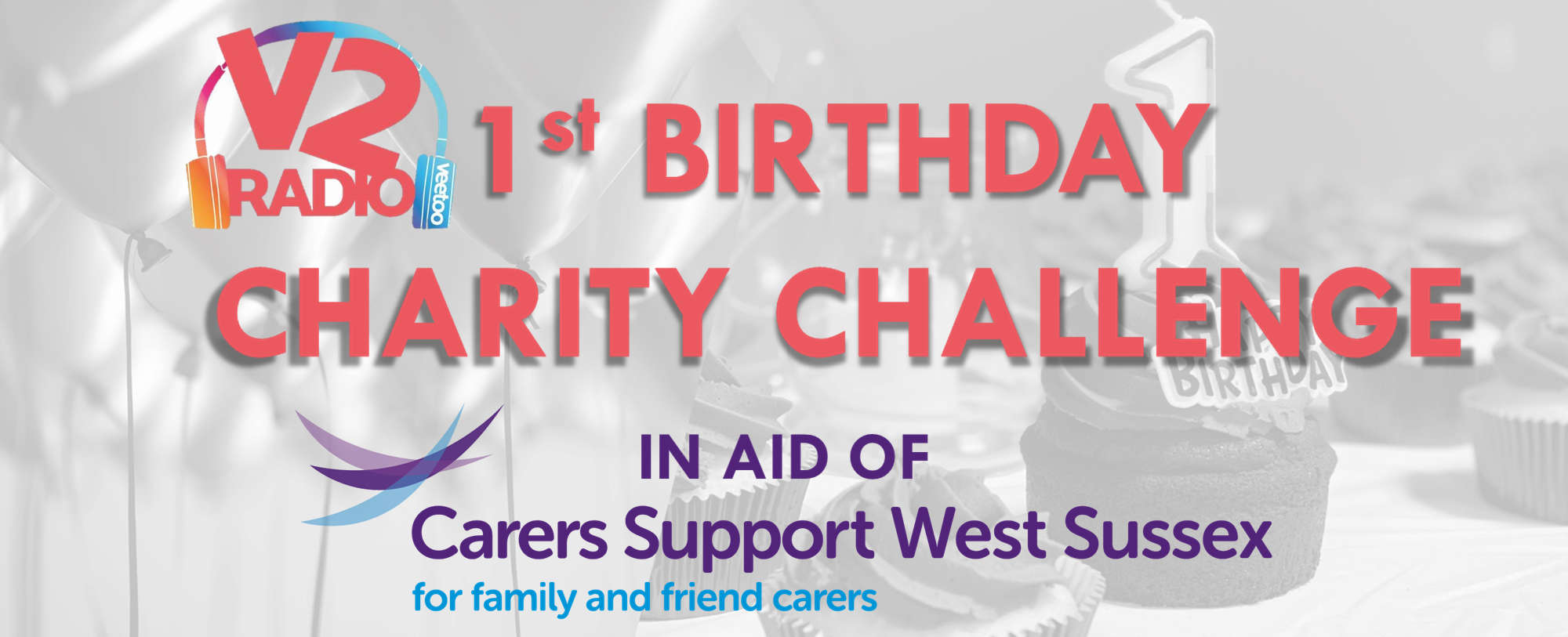 HAPPY BIRTHDAY TO US!
Help us celebrate by making us look like fools...all in the name of Charity!
Fill in the form below with your challenge suggestions for the team to do...whether it be to eat 5 crackers in one minute with no water, play chubby bunnies, hold a plank for 3 minutes or a TikTok challenge!
On our birthday, Tuesday 18th January, we'll give as many as we can a go on-air and/or social media.
All we're asking for in return is that you make a small donation to Carers Support West Sussex at our Just Giving Page.
No need to leave it all to us, get involved! If you think you can do the challenge better, why not upload your attempt to social media, tag us, and show us how it's done? Let the games commence...
We also couldn't have made to a whole year old without YOU, our listeners! So with this in mind, we want you to get the party started with the all-day song requests! Request your song on the form below, and we'll get it on-air as part of our birthday celebrations!
How your donation will help...
£10 - will allow a volunteer to support 6 carers for one week
£20 - will mean one young carer can go to a support group with their peers for 3 weeks
£50 - allows one person who's second language is English to have counselling in their first language
Carers Support West Sussex
Carers Support West Sussex is a local charity team of staff and volunteers, working with and for family and friend carers. Our vision is to bring the day forward when family & friend carers are seen, heard and included.
With more than 120,000 carers in this county and more than 26,000 carers currently registered with the charity, we run Support Groups, a Carer Response Line, help carers access equipment to assist them in their caring role or provide funds so that carers can do something for themselves. We can also help carers access counselling and call back services, wellbeing support and have teams in all of the major hospitals in West Sussex, as well as East Surrey Hospital in Redhill.
With more than 100 members of staff and over 70 volunteers, as well as a dedicated team of Trustees, Carers Support is committed to ensuring carers are recognised and listened to. Unpaid carers save the UK econonomy more than £150 billion across England and Wales every year.
We are there for unpaid carers when they are most in need.
We are a carer facing helpline offering information, guidance, and practical support. We are a gateway for carers to emotional, specialist, peer support and learning.
We work with carers, communities, and partners in the County of West Sussex and throughout the South East of England.
We meet carers where they are at on their carer journey asking the right questions at the right times, offering them recognition and empowerment, as well as a sense of community from their peers.
We know that mothers, sons, fathers, daughters, friends, lovers, partners, husbands, wives, and family do so much for others every day while trying to maintain a life for themselves.
Our strategy is designed to focus on being there for unpaid carers when they are most in need.
For more information head on over to Carers Support West Sussex