V2 Radio Sussex Business Awards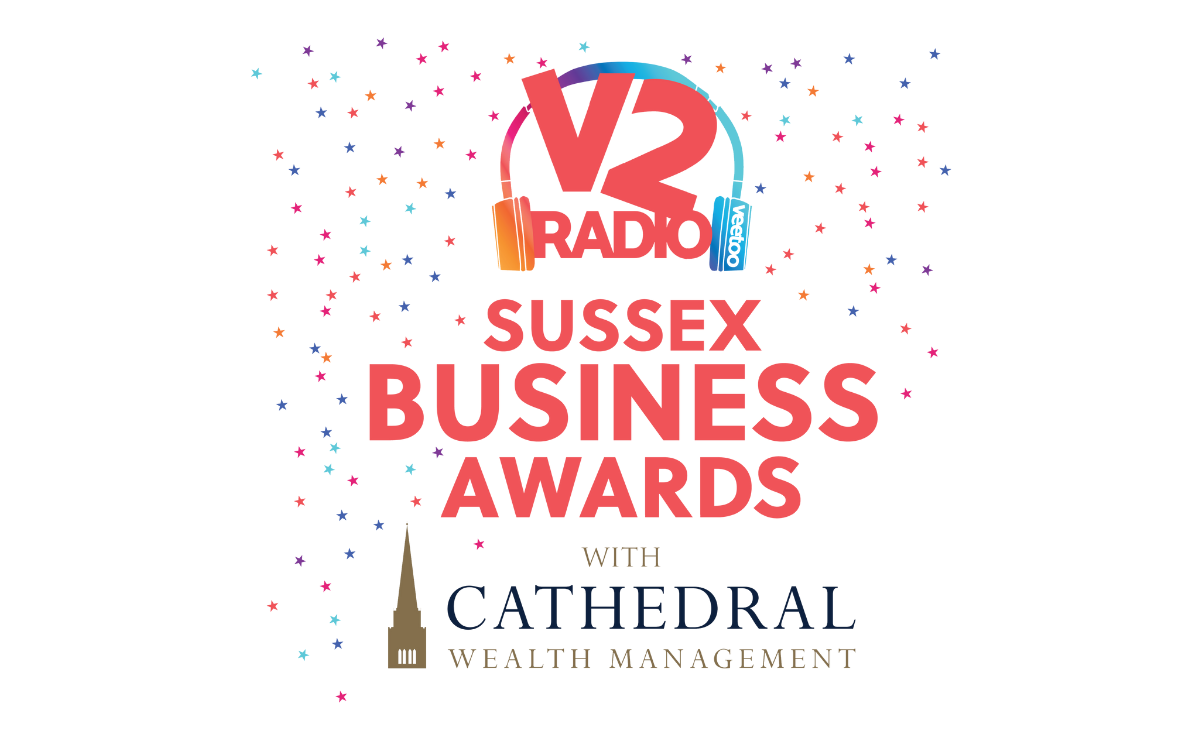 To celebrate and recognise local business excellence, we're hosting the V2 Radio Sussex Business Awards.
The awards are designed to raise your profile, prove your excellence, acknowledge your team efforts and impress your partners and clients. There are 16 awards up for grabs and winners will be announced at the glamorous black-tie awards at the Hilton Avisford Hotel on Friday 29th April 2022, a great opportunity to meet and mix with other local businesses in Sussex.
Entries open 1st November

Enter or nominate for free online

Entry deadline is 31st January
Award categories
Start Up Business
Open to businesses that have been trading for under 2 years only. This award is looking for businesses that show determination and demonstrate a flair to grow a successful business given the recent difficult economic and financial circumstances.
Small to Medium Business
Open to all businesses with less than 30 employees. To recognise outstanding
performance, demonstrate exceptional growth and market leadership.
Large Business
For the company that best demonstrates all-around excellence in business, a well-deserved excellent reputation in the community, recognising a business for outstanding achievements in growth, turnover and profitability, (proof is an advantage) showing clear vision and future plans.
Innovation
Recognising organisations or an individual that implements business initiatives which demonstrate innovative solutions for new and existing business needs.
Sustainable Business
A focus of sustainable businesses is to reduce or eliminate the environmental harm caused by the production and use of their goods and or services.
Manufacturing & Construction
You will have a robust business strategy in terms of sales and finance and will likely be investing in your people, processes and products.
Employer of the Year
Showcasing human resource and staff engagement strategies. This includes recruitment, training, development, communication, employee working practices (including work-life balance), environment,
community outreach & corporate social responsibility.
Young Achiever <26
To recognise any young achiever, trainee, apprentice or young entrepreneur who has gone that extra mile and exceeded the expectations of their trainer/mentor or has significantly contributed to the business community through various mediums of success.
Outstanding Community Contribution
The contribution to the community award recognises the business or businessperson that has made an outstanding or sustained contribution to the community. This contribution could be to charity, education, sports, the local environment and more.
Best place to Eat or Drink
From top tapas bars to fancy dining rooms, beautiful bistros, trendy bars, and great gastropubs, this award is about delivering quality food and outstanding customer experience, including menu creativity, décor, ambience and identifying its unique selling point.
Salon of the Year
This award will recognise and celebrate the success of the best business in the hair, beauty and barbering industries. We are looking for an individual or salon that demonstrates perfection and excellence in their work.
Hospitality, Tourism & Leisure
A business that best demonstrates exceptional financial returns, innovation, strong growth and market leadership in the field of tourism, leisure or hospitality industry.
Excellence in Care
A business or person including care homes, care providers and carers that provides exceptional care and help of any kind in the community. The judges will look for people and businesses that go above and beyond for their clients.
Professional Services
From accountants and actuaries to business consultants, recruiters, law firms and marketeers, the judges are looking for companies that work within the professional service sector.
Listeners Choice
This category cannot be entered. The onus is on our listeners and followers to vote for their no. 1 business from the selected shortlist of businesses who were put were forward during the nomination process.
Overall Winner
This category cannot be entered. This prestigious award will be given to the business/person that has most impressed the judges as an overall winner.